"Too Hip for the Circus" Finished Design Comp. Click to enlarge.
Another week, another derby! This week's derby theme is "Hipster Animals." It's such a strange theme that I'm actually looking forward to all the submissions. That and because I live in a neighborhood full of hipsters. Read on to see my thought and design process on this shirt!
Original sketch. Click to enlarge.
Like any of my designs, I started with a very rough doodle. My doodling style is extremely rough. It's almost a sketch language that I seem to be the only one who knows how to read. I'm usually able to pick out details that I intended to add.
For this project, I actually skipped work today. That's right, I skipped work because a derby would be announced today. I worked full-time in my office. Natalie, (the girlfriend) helped me brainstorm this one. Originally, the first thought we had was a giraffe with tons of scarves. It appears that's an idea already taken and may be used by many people in this derby.
From this super rough doodle, I came up with the inks shown here. Someone asked me how I go from sketches to super cleaned up inks. In this case it took an hour and a half and a lot of patience. I am particularly happy with the expression on his face. it's as if he's riding around saying, "Meh... I don't care about anything." I wanted this design to be kind of whimsical. Really, my concept was to draw a shirt making fun of hipsters, that a hipster would want to wear. To accomplish this, I kept the colors simple and down to 4 colors, put it on a lemon colored shirt (not scented sadly) and distressed it as if it's been washed thousands of times. See the detail shots that follow to see the distressing.
Voting launches tomorrow! Swing by and vote.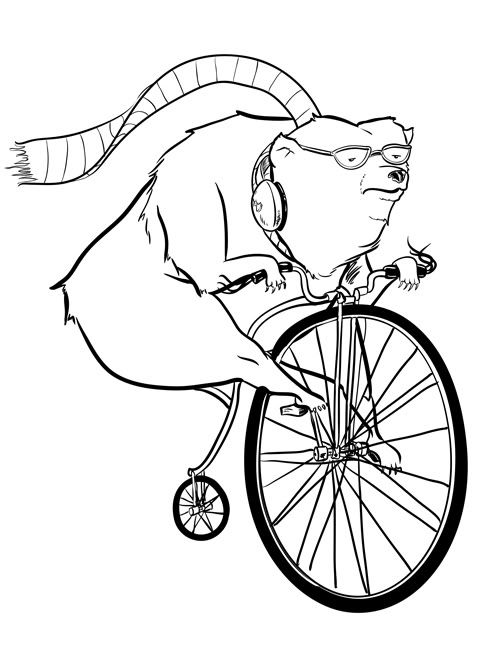 Finished ink. Click to enlarge.
Detail 1, click to enlarge.
Detail 2, click to enlarge
Detail 3, click to enlarge.